A meat lover's paradise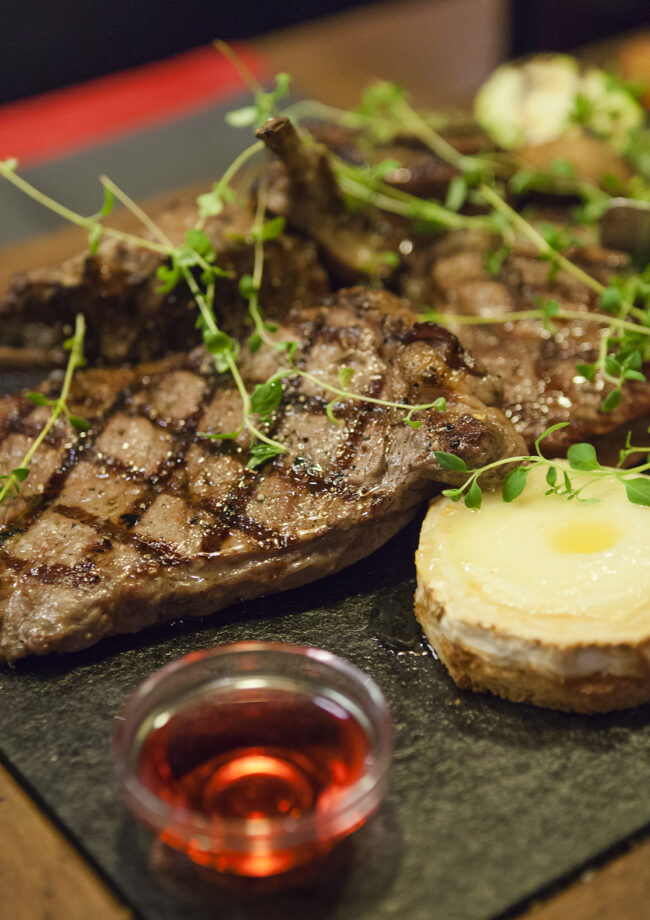 Talleke ja Pullike means lamb and bull.
– that even vegetarians can appreciate
As a guest, the server shows you to your table. This is necessary, because together with the terrace, the restaurant can seat many people; and the restaurant can be fully booked, even on weeknights. To ease the speed of service, pressing the button on the little black device affixed to the table can bring a server to your table or request the bill. For families with children there is a play corner inside and a playground outside.
A weekly menu can be found on the first few pages of the long menu. The favourite dishes from this part of the menu sometimes make it to the regular menu, among which are meat dishes prepared in the Josper oven and Uzbekistani dishes. For those that love grilled meat you can also find a flank steak on the menu, as well as fish and vegetarian dishes, smaller portions and desserts.The lamb comes from New Zealand and the Angus beef, from Australia. You could have a taste of a few dishes, shared among friends, including the entrecote, buffalo tenderloin, lamb, and marbled New York steak. The Baltic Guide tried them all. With quality fresh ingredients and proper preparation, it turns out you don't need any more seasoning than salt and pepper.
Warm rolls and flavoured butter was brought to the table before the meal. The restaurant also has a pastry chef who prepared a melt- in-your-mouth pavlova.
If you get a table right in front of the kitchen, then you can watch the Uzbek cooks at work.A 200g filet mignon cost €14.50 and a 300g entrecote, €15.30. The least expensive bottle of wine costs €13, and there are also six different beers on tap, starting from €3.40 for 500 ml.
Location
The café is open from 9am and the restaurant from 12 noon. The restaurant is located near the Õismäe Nurmenuku store and near the south entrance of the zoo.
Take trolley bus number 6 from the Kaubamaja stop or trolley bus number 7 from the Baltijaam train station. It takes about 20 minutes to get there. Get off at the Nurmenuku stop.
TEXT MIKKO SAVIKKO, PHOTOS ANDREI CHERTKOV
To learn more about this and similar topics