A meal for every taste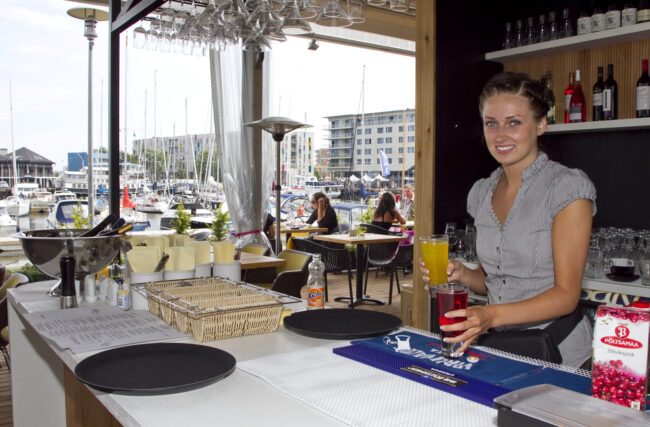 A meal for every taste
Tokyo 55 On the second floor of the Sadamarket is sushi restaurant offering a large selection of Japanese dishes. Prices start at 1,60€. Take away is available as well.
Sadamarket, 2nd floor, Kai 5/ Sadama 6, Tallinn.
The Seven Seas A stone's throw away from the A terminal is the Seven Seas restaurant serving soups, meat dishes, Neh was voted one of Estonia's top restaurants. salads, and pizzas. It is easy to stop from the ship. The sunny terrace is usually filled with people.
Sadamarket, 1st floor, Sadama 8, Tallinn.
Taldrik Inside the Sadamarket mall is Taldrik (or plate in English). They offer grilled foods like burgers and steaks, as well as pizza.
Sadamarket, Map Code A2
Kekkonen The Kekkonen restaurant is situated near the D Terminal on the third floor of the Lootsi Centre. Enjoy simple grilled meats and top Finnish hit songs.
Lootsi 8, Tallinn. Kochi Aidad, Tavern and Coffee Shop
Kochi Aidad is the new brew pub near the D Terminal. The menu offers a wide variety of foods including a half-day breakfast. The pleasant café is next door and serves inexpensive and tasty lunches.
Lootsi 10, Tallinn.
City Marina This modern restaurant is located right next to the Admiralty Basin. The terrace is a nice place to enjoy a meal and to watch the traffic in the port. Kuunari, Tallinn.
Neh
A short walk from the D terminal takes you to one of the best restaurants in town. Neh is run by the kitchen staff from Pädaste Manor on Muhu Island, and was voted as one of Estonia's top restaurants. Lootsi 4, Tallinn.
TEXT MIKKO VIRTA, PHOTOS ANDREI CHERTKOV
To learn more about this and similar topics