A meal fit for the PRESIDENT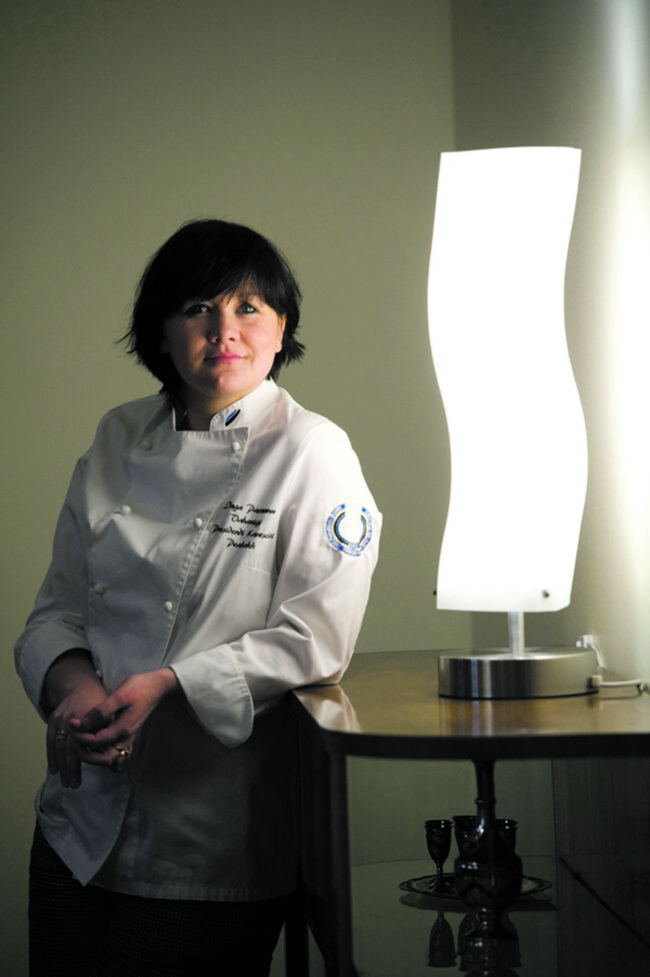 A meal fit for the PRESIDENT
Inga Peanurm has been cooking for almost 20 years. Inspired by local and seasonal cooking, she takes traditional Estonian dishes and gives them a new look. This time of the year is particularly busy for Peanurm, as she has been busy with preparations for the Annual Presidential Reception. Since November, Peanurm has been collaborating with other top Estonian chefs and will be preparing over 13,000 canapés for close to 800 guests.
How did you become interested in cookery?
I became interested in cooking thanks to my father who brought out the food lover in me. In 1993, I went to cooking school to learn professional cookery; and in 1996, I got my first job at Nunne Kelder. Gradually, my love of food continued to grow and develop, and then eventually my workplace had to change too. Today I know for sure that I have chosen the right profession and without the world of food, my life would be rather boring.
How do you think Estonian cuisine has changed since you first started cooking?
I believe that I chose to enter the cooking profession at the right time, as I have had the chance to work between two different eras. For example, the popular Soviet-era cafeteria eating culture has changed now to a la carte dining. Changes are also specific to those cooks that have wanted to keep up with the times and change themselves along with Estonian cuisine. Fortunately we have a large selection of raw materials and producers that we can be proud hold the Estonian cuisine flag up high.
How would you explain Estonian cuisine or Estonian food to those that have never tasted it?
Estonian cuisine and Estonian food is everything that we have grown, developed and maintained; our traditional foods and those new recipes developed by chefs; and all of the flavours associated with the Estonian people and culture. We try to keep our ancestral recipes alive by modernising them, but the basic flavours remain the same.
Every year a Presidential reception is held. Can you explain what it is and who participates?
February 24 is the anniversary of the first Independence of Estonia and each year the Estonian president invites those people who have helped their country in some way. For cooks, participation in the February 24 reception is a huge honour. I have been organising my menu since November. Everything was all ready to go by February 16. Seven chefs and two pastry chefs will prepare food for the Presidential reception.
Can you explain what the Estonian Chefs Association is?
The Estonian Chefs Association was created on July 13, 2000. Its members are active in the Estonian cooking community and are mostly chefs who voluntarily develop and promote Estonian food culture. They also participate in the training of young chefs. Our main activity is organising cooking competitions. Every year we organise the Cook of the Year and the Young Cook of the Year cooking competitions.
What is your favourite food?
My favourite foods are seasonal ingredients and the ideas for new dishes they inspire.
At the moment I am enjoying parsnips and Jerusalem artichokes. You can get creative with these ingredients and prepare just about anything.
What are your favourite restaurants in Estonia?
I don't have any true favourites because most of the time I am so wrapped up in food prepara- Traditional favourites with a new spin. tion. And because I am always at work, I don't get a chance to go out much. In my opinion, at the moment some of the best and most interesting places to eat are Tchaikovsky, Bordoo, Mannerheim, Oko Kohvik, Neh, F-hoone, and Egoist. There are many great places to eat in Estonia, and every taste can be catered to. But most importantly, chefs must always cook with love.
What is Estonian Food? The many countries that have ruled Estonia, including Denmark, Poland, Germany, Sweden, and Russia, influence Estonian cuisine. Dishes such as black pudding, sauerkraut, headcheese, and potato-based salads are typical. Modern Estonian cuisine creates new dishes using local ingredients. Top Estonian chefs have been reinventing these traditional dishes in new and interesting ways, keeping the flavours the same. Black pudding mousse anyone?
TEXT: KRISTINA LUPP, PHOTO: PRIVATE SAMPLE
To learn more about this and similar topics