A Haunting Castle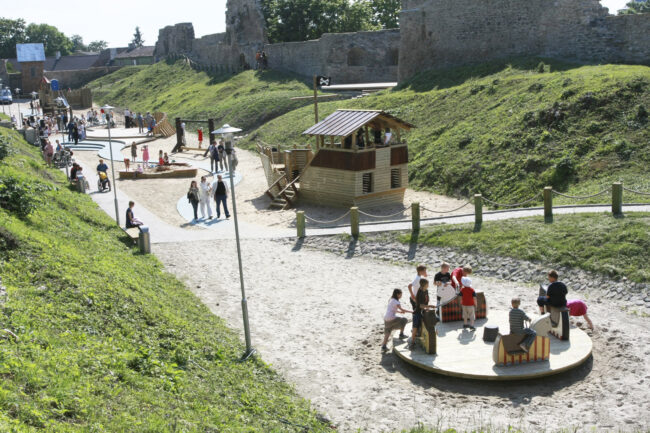 A Haunting Castle
"Haapsalu Episcopal Castle was built in 1200, and is the only one of its kind that remained well preserved to today. Every year the museum holds exhibitions that explore its 700-year history," says Ülla Paras, the director of the castle.
New this year is the medieval heating exhibit and the opening of the rune stone hall to the public; artefacts from the cathedral will also be on display. Estonia's most famous ghost, the White Lady, has been known to appear in the castle's dungeon, where she awaits her horrible fate.
"The white lady has inspired artists, writers, and stage directors throughout the years. The White Lady Theatre has been putting on performances since 1979. This summer you can see two performances," says Ülle Paras. From June 27 to July 2, see Andrus Kivirähk's Valged Daamid, and from August 3-5, see the performance outside in the castle's courtyard. The lady appears on August 2 in the light of the full moon from the Baptistery's circular window.
In addition to the museum, tower, and dungeon, children can enjoy an enclosed playground with a large wooden ship, knight's horses, and swings.
Summer Events at the Episcopal Castle:
2. 6. Läänemaa Song and Dance Festival (Läänemaa laulu- ja tantsupidu.)
27.6.-2.7. White Lady Outdoor Exhibition (Valge daami näitus Piiskopilinnuse välisterrassil)
6 – 8.7. American Beauty Car Show. Castle courtyard.
11 – 15.7. Haapsalu Early Music Festival (Haapsalu vanamuusikapäevad)
21 – 22.7. International Yoga Festival.
25 – 29.7. Haapsalu International String Instrument Festival (Rahvusvaheline Haapsalu keelpillifestival)
28.7. Haapsalu Dog Show.
2.8. August full moon. Appearance of the white lady from the baptistery's window.
3 – 5.8. Valged Daamid outdoor performance in the castle's large courtyard.
17- 18.8. Augustbluus – Blues Festival. Episcopal Castle Location Haapsalu Episcopal Castle, Lossiplats 3, Haapsalu.
Location
Haapsalu Episcopal Castle, Lossiplats 3, Haapsalu
TEXT MIKKO VIRTA, PHOTO ÜLLA PARAS
To learn more about this and similar topics