A good cru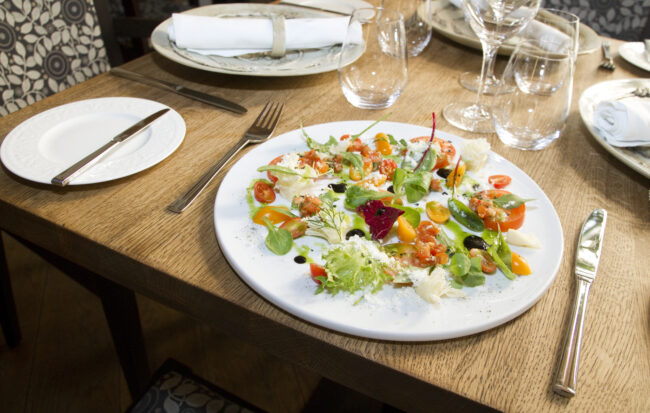 A good cru
Upstairs, the 15-room boutique hotel offers peaceful accommodation. Downstairs, the restaurant menu balances classic and modern, local and international for a truly unique dining experience.
Let's start upstairs. Upon entering a deluxe suite that faced the Old Town main street Viru, I almost forgot where I was. It was so quiet. For anyone that has stayed in the Old Town before, they know that the old stone buildings echo the sounds of the busy tourist-filled streets below. In other words, it's noisy. Each of the rooms is unique and range from standard to deluxe to suite sizes. In the basement, guests can enjoy use of a small swimming pool and sauna.
One of the stunning features of the restaurant on the main floor is the courtyard patio located at the side of the building. Again, it is so peaceful that you almost forget where you are.
Chef Dimitri Haljukov is currently serving his summer menu. This new menu focuses on light summer fare –salads, local fish, vegetables and so on. Haljukov ensures that there is something for everyone. To start, the lightly smoked moose tartar (10.50€) has a lovely earthy flavour with the marinated milk mushrooms it was served with. The Arctic char, served with saffron mashed potatoes (16€) was perfectly cooked. The chef told me that Cru was the only restaurant in Estonia (as far as he was aware of) that was serving this fish. To finish, the rhubarb crème brulée (5€) was rich, yet refreshing.
Not feeling that hungry, but still want to enjoy the terrace? Nibble on a cheese or meat platter for two (12€) while sipping on a glass of wine from the diverse wine list.
Location
CRU Viru 8, Tallinn Old Town Map Code H2. www.cruhotel.eu www.crurestoran.eu
TEXT: KRISTINA LUPP, PHOTOS: ANDREI CHERTKOV
To learn more about this and similar topics