A glass of wine with a view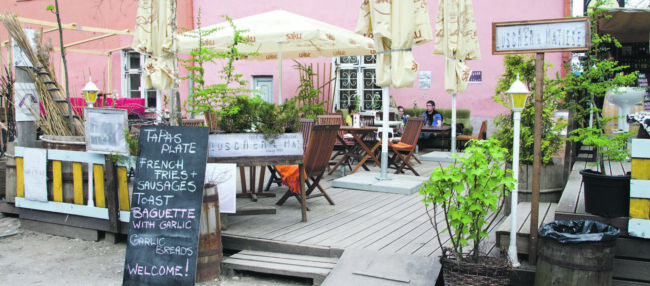 A glass of wine with a view
Believe it or not, Estonia had a wine culture during the first period of independence. The story starts in 1910 when Swiss-born Arnold Lüscher and Estonian Paul Matiesen decided to open a vodka factory in Moscow. Due to the October Revolution, the pair were forced to leave. In 1921, they decided to open a cellar in Matiesen's hometown of Tallinn and began importing spirits into Estonia. They imported such products as Barton & Guestier wines, Gordon's Gin, Johnnie Walker whisky, and Edmond Dupuy cognac. Their business flourished and by 1929 their Toompea cellars held over 200,000 litres of wine. In addition to the cellars, they also opened a wine bar and shop on Kuninga that was very popular in its day. After the start of the war, the pair was forced to close their doors.
Fast forward to 2009: Luscher & Matiesen reopened and have begun importing wine from France and Spain, with plans to expand their product line.
In the summer they open a terrace almost overlooking Tallinn in the upper part of the Old Town on Toompea. They serve both a French white and a Spanish Red under their label, as well as small snack menu. Follow their updates on Facebook to find out about upcoming live music events. Cash only.
Location
Kohtu 12. Tallinn
Tasting Notes
2010 Luscher & Matiesen White Wine
This style of wine was popular in Estonia in the 1920s and 30s. A simple, yet elegant wine that is fresh with floral and citrus notes. Enjoy as an aperitif. Girond, Bordeaux, France 50% Sauvignon Blanc, 30% Colombard, 20% Ugni Blanc 11.5% alc/vol
2012 Luscher & Matiesen Red Wine
This wine is produced according to tradition and aged in oak barrels. It has hints of ripe strawberry. Enjoy this light red alongside cheese, pasta, and meat dishes. Vino de la Tierra de Castilla, Spain 100% Tempranillo 12% alc/vol
TEXT: KRISTINA LUPP, PHOTOS: ANDREI CHERTKOV
To learn more about this and similar topics