A family restaurant for beer lovers too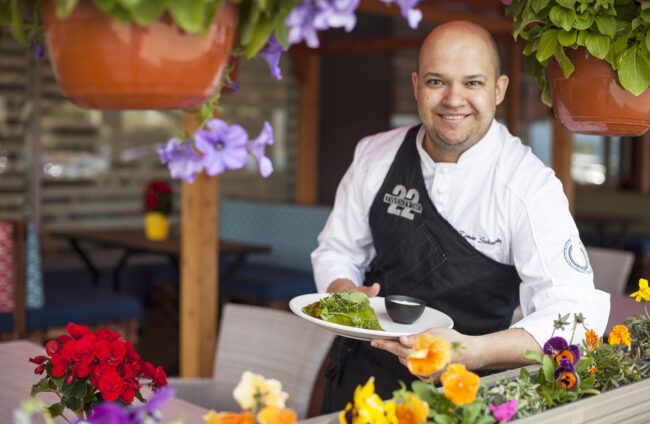 22 Family Resto is a good example that you can still find new and interesting places to eat outside of the Old Town. The distances within in Tallinn are not so big.
As the name suggests, 22 Family Resto is a family restaurant. There is a prudently designed playground in the restaurant and the layout is cosy. There is of course a children's menu. The restaurant is located close to zoo entrance.
Those without children are also welcome. 22 Family Resto appeals to older palates as well. The chefs use a Big Green Egg grill, which you can see from the open kitchen. There is an impressive selection of Belgian beers, as well as an abundant selection of beer snacks. You can also catch all the action in the kitchen from the TV in the corner.
The menu offers some favourites, as well as some unique dishes. We tried the stuffed green pancakes to start. The thin, brightly coloured pancakes were stuffed with grilled vegetables and the portion was so large that we should have ordered it without choosing meat. The sauce was a generous dollop of sour cream.
The venison is offered both as an appetiser and a main. The tasty venison patty was nicely seasoned with caraway seeds. The wild leek leaves added a pleasant fresh spring flavour to the dish.
For dessert, unfortunately we had little room left, though our server offered many interesting options. The service added to the pleasant experience as a whole.
The restaurant offers daily lunch specials from €3-7, as well as vegan options. 
Location
22 Family Resto, Meistri 22, Tallinn.
www.22resto.ee


Click on the address to see the location.
TEXT SILJA HURSKAINEN, PHOTO ANDREI CHERTKOV
To learn more about this and similar topics