14 flower meadows will be created in Tallinn this summer – as part of the city's year as European Green Capital
Text Timo Huttunen
Photo Emiel Maters / Unsplash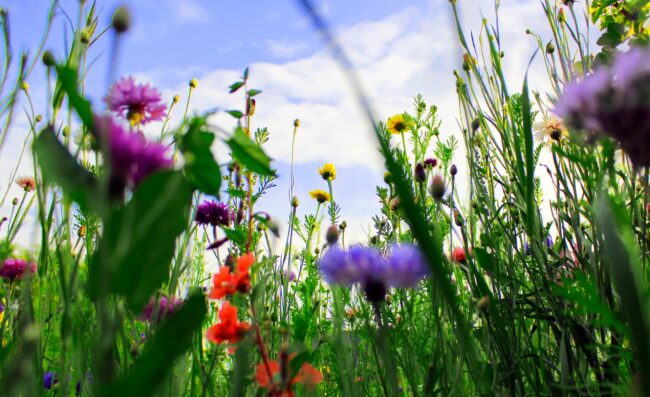 Tallinn is the European Green Capital in 2023. To celebrate the year, 14 flower meadows will be created in different parts of the city to enrich the urban space and increase species diversity.
Meadows will be established all over the city. Three of them are part of the city's diversity project, which encourages ordinary people to establish flower meadows near their homes. The total area of the meadows will be 3.5 hectares.
According to Tallinn Deputy Mayor Vladimir Svet, the purpose of building meadows is to add natural and species-rich beauty to the cityscape and alleviate the heat island effect. The heat island phenomenon is a characteristic of urban areas, as a result of which the temperature in urban areas rises higher than the surrounding countryside.
"Meadows are much more environmentally friendly and sustainable than flower beds of annual plants. In addition, they are beautiful, enrich the urban space and are also food for insects, birds and small animals living in the city. We will start establishing meadows this year, but we hope that we will be able to increase the number of flower meadows in the coming years as well," said Svet.
Meadows are easy to care for
The meadow seed mixtures used in the project have been selected based on the growing conditions of the region. The mixtures consist only of species-specific seeds of wild Estonian meadow plants. To add decorativeness this year, the mixture contains seeds of annual species.
"Blooming and versatile flower meadows are very important for the city's biodiversity, because they provide a full-scale habitat for pollinators and many other invertebrates, as well as larger animals," said Meelis Uustal, the leading nature conservation specialist for the city of Tallinn.
Uustal added that the locations of the meadows have been chosen to increase the natural diversity of certain green areas and green corridors. "At the same time, we hope that over time these plants will spread on their own in these green areas," Uustal stated.
The city's meadows have a significant impact on the microclimate. Uncut grass reduces heat more effectively than mowed grass. The meadows retain their decorativeness even during long heat waves and also absorb rainwater better.
One of the positive aspects of meadows is the reduction of the maintenance burden. Instead of continuous mowing, the meadows only need to be cut once a season.
In order to preserve biodiversity, the city of Tallinn will also reduce the mowing intensity in the city's green areas and has reduced the use of pesticides to a minimum in urban areas.
To learn more about this and similar topicsBiodiversity European Green Capital 2023 Flower Meadow Flowers Grass Heat Island Meadow