Happy feet and hands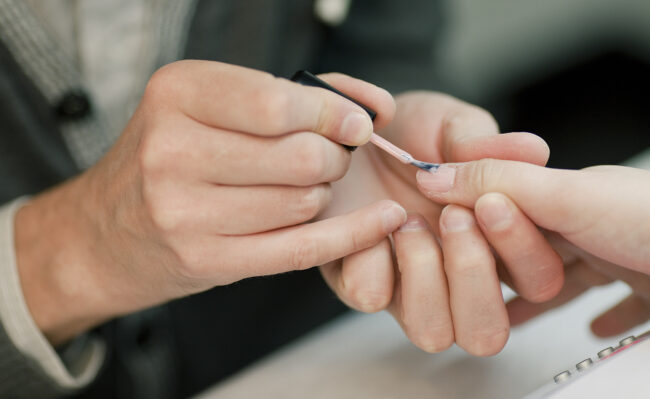 The polish goes on.
Summer is just around the corner, come to Cherie Ilusalong for all your manicure and pedicure needs.
Cherie Ilusalong is located in a historical location in Tallinn's Old Town. The building dates back to 1437, when a city official by the name of Gosshalk Borsteli built the house for his family. Cherie Ilusalong has been making the women and men of Tallinn beautiful since 2010.
If you come to Cherie Ilusalong for a manicure or pedicure, chances are Argo will be taking care of your nails, and Gulja will take care of your feet. This beauty salon is a small operation, and most of the staff have a few different skills under their belts. Argo, for example, is also a hairstylist, makeup artist, and can apply eyelash extensions, in addition to manicures. Gulja does manicures, and pedicures. The talented staff of eight speak Estonian, English, Finnish, and Russian.
Gel nail polish has grown in popularity over the last few years, and Cherie offers both gel manicures and pedicures. For those that don't know, gel nail polish is a type of polish that dries very quickly and stays on your nails for three to five weeks. Cherie uses Gelish Harmony gel polish. An LED lamp is used to dry the polish quickly. Gel polish is not only for decoration, but it also protects your nails and gives them strength. "Take care of your hands and feet by coming for a monthly manpedi, in addition to your daily beauty regimen", says Sirje Soo, owner of Cherie Ilusalong. For the month of May, Cherie Ilusalong is offering a 20% discount on gel pedicures, when you have a gel manicure. A gel manicure costs €30 and a pedicure €38; if you book both at the same time, it's only €60. Classic manicures start at €20, classic pedicures start at €28.
Cherie offers hairdressing, makeup, manicures and pedicures, eyelash extensions, and massage. The hair stylists at Cherie use L'Oreal products, including L'Oreal Professionnel hair colours. Among their hair colouring products is INOA, an oil based, odour-free and ammonia-free colouring product that moisturises and also covers greying hair.
 No matter what procedure you visit Cherie Ilusalong for, you will be warmly greeted with a cup of coffee or tea, and made to feel like a regular. Bookings are recommended and can be made by calling the salon or reserving a time on-line.
Location
Cherie Ilusalong
TEXT KRISTINA LUPP, PHOTOS ANDREI CHERTKOV
To learn more about this and similar topics