RELAX AND UNWIND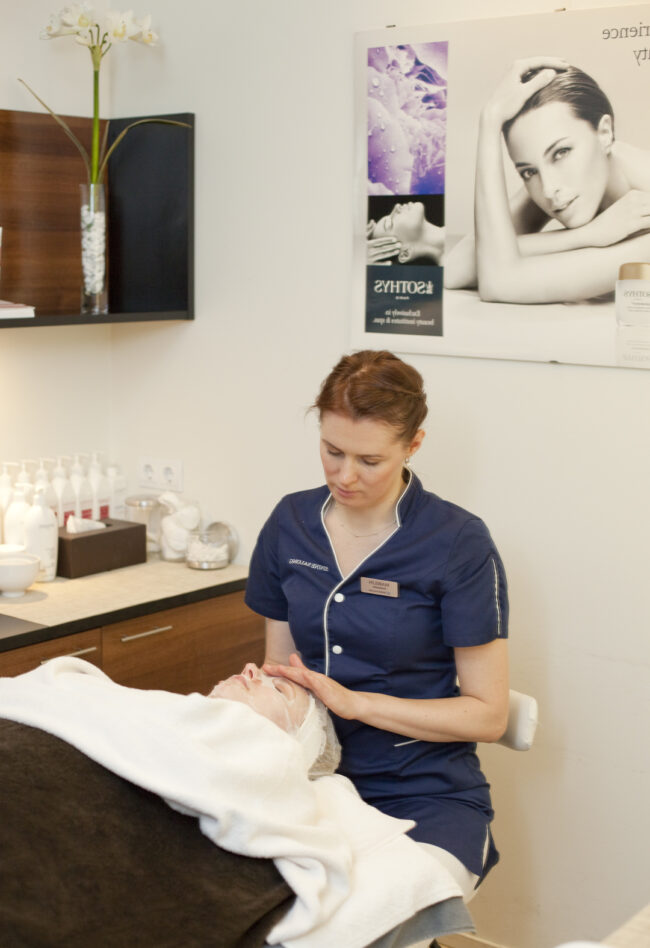 The Hydradvance treatment lasts 80 minutes and leaves your skin soft and hydrated.
Beauty, luxury, and indulgence at Sinine Salong.
Friday morning and Sinine Salong is bustling with clients waiting for manicures and pedicures, haircuts and styling, or massages and facials. It is my first time at Sinine Salong and I feel like a regular already –friendly service from chatty staff makes me feel right at home.
It was recommended that I try the Sothys Hydradvance treatment, which is a facial with two masks and massage. With the drying winter weather up ahead, a moisturizing facial was just what the doctor ordered. What makes this facial particularly special is that while the masks are setting, your neck, and shoulders, or arms and hands are massaged. The Hydradvance treatment lasts 80 minutes, and afterwards you skin feels soft and hydrated. Marilin, my cosmetician also applied some light make up after the procedure, which meant that I could go on with my day.
Regular clients from Estonia and abroad have been coming to Sinine Salong for years, so many in fact, that they had to expand. Come December, a second spa location will open right next door in the Postimaja Shopping Centre, so close that you could easily run from the Nordic Hotel Forum to the spa, and only be outside for a few seconds.
The new spa will feature couples rooms, and a spa lounge, where guests can enjoy tea and light snacks, or for a truly indulgent experience, a glass of champagne! Some new treatments have been added to the long list of services already offered by Sinine Salong, like a hot stone pedicure or the stress buster massage, three massages in one. The new spa is also childfree, meaning you must be at least 16 to enter. This ensures total relaxation and quiet.
Sinine Salong uses top of the line products and even many organic ones, like organic hair colour. Grete and Aili, managers at Sinine Salong also assured their regular clients that prices will not go up. Both locations will offer hairdressing ser- vices, manicures, and pedicures as well. The extra space means that Sinine Salong can accommodate more clients, but Grete and Aili told me that bookings are still advised.
Location
Sinine Salong Ilusalong
Viru väljak 3, Tallinn (Nordic Hotel Forum, 1st floor)
Check on the map
Sinine Salong Spa
Narva mnt 1, Tallinn (Postimaja Shopping Centre, 4th floor)
Check on the map
TEXT: KRISTINA LUPP, PHOTOS: ANDREI CHERTKOV
To learn more about this and similar topics