Ülemiste – Estonia's largest shopping centre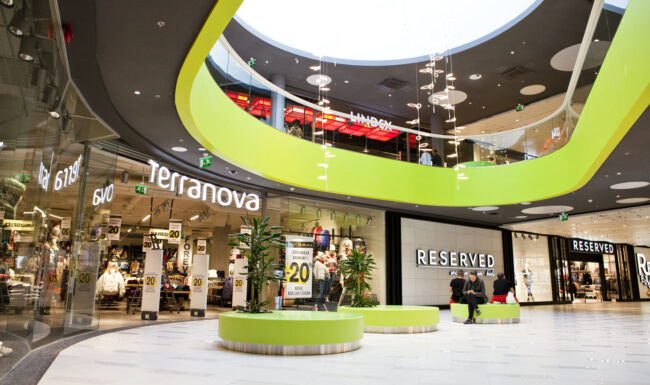 At the end of October, Ülemiste shopping centre reopened with 50 new shops and service points. Ülemiste shopping centre's renovations have been going on for quite some time, but once you set foot in the fully renovated centre, you will realise it was worth the wait. Ülemiste has become a one-stop-shop for shopping of course, but also as a destination for the whole family. The addition brought an extra 22,000 m2 of shop space, totalling 60,000 m2 altogether. There are over 50 new shops and service points, a parking house with 400 extra spaces, themed rest areas (there is one that even includes a slide), and children's play areas. The centre can now boast having Estonia's largest selection of shoes with 23 different shops, children's clothing and toys, and sports apparel. And, if that's not enough, the selection of places to eat has doubled.
Ülemiste shopping centre will be home to some big name brands that will be coming to Estonia for the first time in Estonia. This includes, Estonia's first Sports Direct, H&M Home, The Pier, Estonia's largest Zara store, Nike flagship store, an Apple showroom inside Euronics, and a 1400 m2 Lido restaurant opening in January.
There will now be 1350 parking spaces at Ülemiste. This includes the 950 spaces outdoors and the 400 spaces in the new parking garage. The three-floor garage has entrances on each floor of the shopping centre. Parking is free for shopping centre visitors. There are also charge points for electric cars.
With 60,000 m2 of shopping, you may need to rest your feet. Ülemiste has built five different rest areas, each with a different theme: flower, tree, water, sun, and stone. Some are equipped with iPads, so you can surf the net. Some have phone charging capabilities and some have TVs. And there is even one, the flower rest area, which is equipped with a slide from the second floor to the first. The slide is meant for children, but during our tour we were told that if you fit in the slide, you could use it. The shopping centre also has free Wi-Fi throughout.
In addition to shopping and the comfortable rest areas, Ülemiste will hold events throughout the year. Visitors can look forward to upcoming Christmas events, the Chocolate Festival for Friendship Day in February, and a summer strawberry festival.
Ülemiste now has Estonia's largest selection of shoes, with 23 shoe stores. Take your pick from Dune, Danija, Eligo, Walking, MK,ECCO, SHU, Tamaris, Salamander, Geox, Skechers, Bata, NS King, Hõgl, ZB Shoes, Step Top, Aldo and more! You will also find wellknown Estonian brands including Monton, Sangar, Mosaic, Bastion, Protten, Bon Bon Lingerie, Marc and Andre. Top name international brands include Guess, Calvin Klein, Tommy Hilfiger, Springfield, Marco Polo, SuperDry, Gerry Weber, Esprit, Zara, H&M, New Yorker, River Island, Lindex, Motivi, Reserved, Mohito and many more!
Ülemiste is a fashion and family centre, where children's entertainment is taken seriously. It is there- for that Ülemiste has Estonia's largest play land. And if that's not enough, there is also a playground with soft recycled rubber play top materials. In Ülemiste, there is also no shortage of children's clothing and toy stores.
It just wouldn't be a great shopping centre without a great selection of restaurants and cafés. These include everything from Chinese and Japanese cuisines, to family restaurants, to fast food like McDonalds and Subway. In January, a 1400 m2 LIDO restaurant will open.
Location
TEXT KRISTINA LUPP, PHOTOS ANDREI CHERTKOV
To learn more about this and similar topics